Photo: Jim Leahy / Contributed Photo

ORANGE — A family that decided on a whim to hold a lemonade sale to benefit the Orange Volunteer Fire Department made some serious bank, so they will do it again.
"Our first customer made a donation of $50 and didn't even want any lemonade," said Aneda Kratzer-Duz.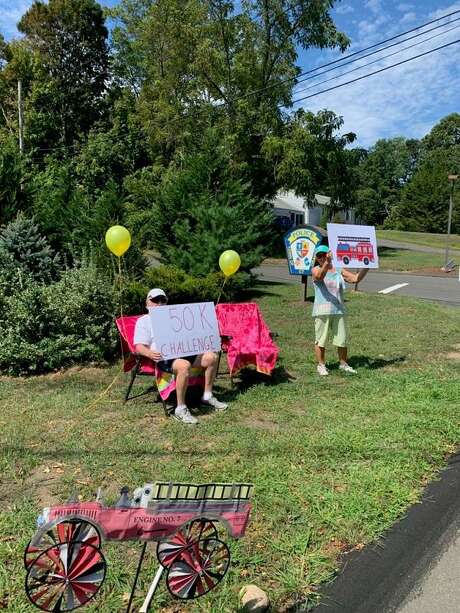 Photo: Aneda Kratzer-Duz / Contributed Photo

Donations varied, starting at 50 cents, but it all added up and they made $220 in just a few hours that day.
It was Kratzer-Duz, her three children and her parents who made the Country Time lemonade stand happen, but her husband, Janusz Duz, is doing his part by matching all the money his family raises.
The all-volunteer fire department was hit hard financially by the pandemic, as its two major fundraisers were canceled, knocking out 50 percent of its $400,000 budget.
At the same time, the department has a $50,000 payment due in the fall on its new $850,000 fire truck.
Board of Finance members, led by Vice Chairman Jim Leahy, set up a GoFundMe campaign and the team has organized fundraisers. The campaign, called the "Fire Truck $50K Challenge," has been visible throughout town with wooden signs all around town tracking the fundraiser, with $50,000 as the goal.
Leahy came upon the lemonade stand by accident Wednesday. He had updated the fundraising numbers at the main fire station on Boston Post Road and was turning onto Lambert Road when he first saw the stand.
"It really made me smile," Leahy said. It wasn't just the idea of money, but more about that it showed "the effort to date got inculcated into the community."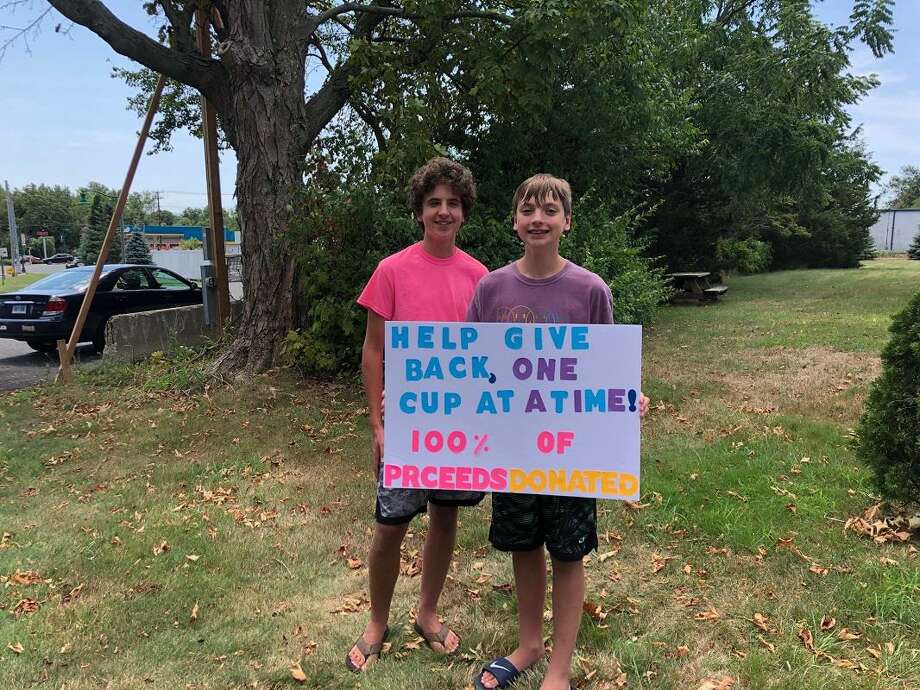 Photo: Jim Leahy / Contributed Photo

"I thought to myself, 'It's nice that someone picked up the ball and ran with it,'" and took the trouble to make signs.
"That's the kind of town Orange is," he said.
Leahy, who paid more than the suggested 50 cents for his drink, said as of Wednesday the campaign had raised $43,500, 87 percent of the goal, through 319 donors.
Kratzer-Duz said she, her three children and her mother and father, Robert and Janina Kratzer, drove by one of the fundraising signs when Janina Kratzer suggested the family hold a lemonade sale to raise money for the cause.
Julian Duz, 14, said his grandmother is good at coming up with ideas like that, "and we make them happen." He had a special affinity for the cause because his kindergarten teacher, Lisa Kaplan, is a member of the OVFD. Julian said Kaplan was always "kind and "patient" and remembers when a student fell and scraped her knee on a field trip to Beardsley Zoo that Kaplan carried her the entire time.
Aleksander Duz, 15, said, "It felt nice to give back to the community because we're so privileged."
Kalina Duz, 11, said, "I really like giving back especially for the fire department because they do a lot for us."
They made signs that read, "Lemonade for a new fire truck," and "Help give back one cup at a time. 100 percent of proceeds donated."
The location where the lemonade stand will be held is owned by the Kratzers, but is not where either they or their daughter lives in Orange. It will take place at 310-312 Lambert Road from 11 a.m. to 4 p.m. Saturday
The OVFD budget is ailing financially because of the cancellation of two boot drives and its biggest fundraiser, the Firefighters Carnival, which typically draws thousands from the area.
Leahy has said he suggested the community fundraiser to the board members because the volunteer fire department goes on calls all hours of the day and night to save homes, buildings and lives.
As Leahy put it: "They now have a fire on their operating revenue"
He has said it's all in the spirit of OVFD's slogan, "Neighbor Helping Neighbor," and a "microcosm of what our society needs more of."
The truck, a designated Quint-32, is equipped with a 75-foot aerial ladder, 1,500-gallon-per-minute pump and other tools, according to a press release from its dedication last August.
"The Spartan/Smeal truck is designed to perform a variety of tasks at emergencies," the department said in a press release at the time.
The truck replaced a 1978 Mack CK that had a 50-foot ladder and a 1,000-gallon-per-minute pump.
At the dedication ceremony of the new truck, called a "wetdown" in the firefighter arena, First Selectman Jim Zeoli said about 14,000 people live in town and about 100,000 cars pass through daily, and when there's an emergency, they rely on the OVFD.