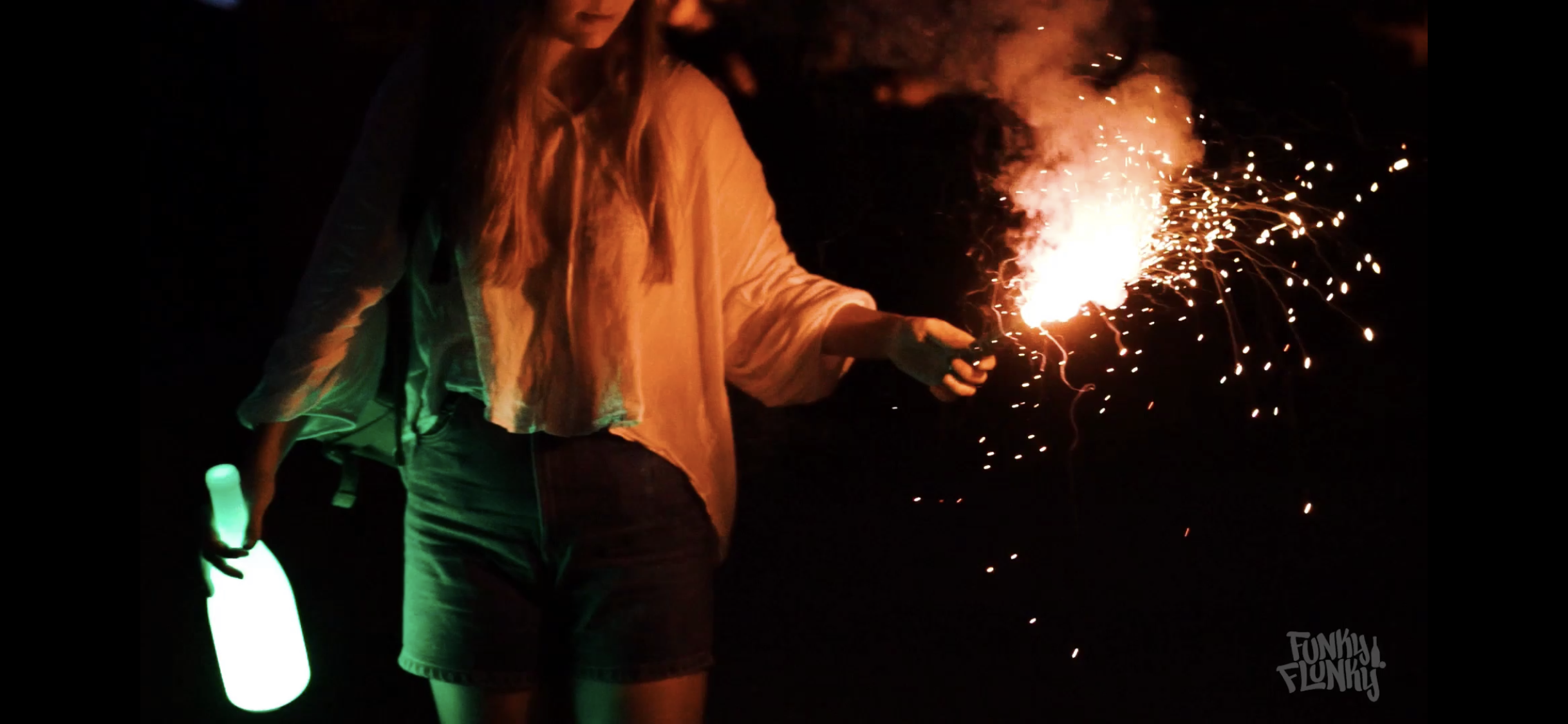 Heidelberg, Germany – August 26, 2020 – What's Funky-Flunky? Fun to say? Absolutely! Curiosity piquing? Certainly! But what is it? It's proof that young, festival-going Germans are looking forward to the day when music festival and parties will once again be on everyone's social calendar. The proof of their enthusiasm and anticipation can be seen in the recent, wildly popular Kickstarter campaign that was 100% fully funded within days of being launched. 
The Funky-Flunky Kickstarter campaign aims to begin production of a rechargeable, brightly-lit sturdy bottle and similarly bright, though differently coloured, LED ball needed for the popular German party game, flunkyball. The Kickstarter campaign blew through its goal with two weeks left to go on the fundraising campaign. Hundreds of backers from around the world came together to raised close to $10,000 to get the simple and portable party game into production.
Flunkyball is a game in which participants line up across from each other on opposite, equal teams. A member of the first team takes a turn at knocking over a bottle which has been placed in the middle of the two teams. The bottle is usually plastic, used and very flimsy. When the bottle is knocked over, the opposite team must drink from their beverage until the bottle is placed right-side-up again and the opposite team yells 'stop!' The game is fun, active, and best of all, can be set up almost anywhere and in any weather.
"Flunkyball is a fun, simple game enjoyed by many, but it usually suffers from a few drawbacks," explains Julius Auffermann, the 24-year-old German university student who created the patent pending Funky-Flunky. "The first is finding an empty bottle; sometimes that means having to dig through recycling or garbage, which is obviously unpleasant. Second, after only a few hits of the ball, the bottle won't stand upright anymore, or it falls over too easily. Most parties and festivals tend to go late into the night when everyone is having fun, but it's impossible to continue to play flunkyball into the night as no one can see the bottle or the ball in the dark. Funky-Flunky solves all of these issues. The bottle is weighted and sturdy enough to take hit after hit. The ball glows bright white and the bottle glows bright green so everyone can see it, no matter the lighting conditions. The bottle also has a built-in tilt sensor that changes colour as soon it is knocked over. Better still, the game can be played over and over again as both the bottle and ball have a built in USB charger to ensure the light burns bright for hours. We love the simple, compact design, and judging by our backers support, so do other party-goers!"
Those who enjoy a good time and a simple, fun game that breaks the ice at any party still have time to back Funky-Flunky. To pledge €39 for one set or €79 for two sets of Funky Flunky games, visit the Kickstarter campaign before September 3, 2020.
For more information about Funky Flunky visit www.funky-flunky.com. To keep up with the latest Funky-Flunky news follow them on Facebook or Instagram @FunkyFlunkyBall
For more information, or to arrange an interview, please contact below.

Media Contact
Company Name: Funky-Flunky
Contact Person: Julius Auffermann
Email: Send Email
Phone: +491742471536
Country: Germany
Website: Funky-Flunky.com
Press Release Distributed by ABNewswire.com
To view the original version on ABNewswire visit: German party game, Funky-Flunky, gets rave reviews and blows past its Kickstarter fundraising goal